Ayus Arishta Bala 250ml
Product.Nr.: 150680-DE
EUR
13.90
€ 13,90
incl. 19 % VAT
Discount
Quantity
Single price
pro litre
1-3

€ 13,90

€ 55,60

4-7

-5 %

€ 13,20

€ 52,82

>= 8

-9.8 %

€ 12,54

€ 50,18
Available, enough stock

delivery time 2-4 days
gross weight 0.52 kg
---


Contains 13% vol Alcohol.

Made in Sri Lanka according to a traditional methods of fermentation.
vegan
lactose-free
gluten-free
product description
Bei der Herstellung von Ayus Arishta Bala werden die verwendeten Kräuter vor der Fermentation heiß ausgekocht. Die Kräuter stammen aus unseren Indischen und Srilankesischen Fair Trade Projekten.

Abgabe nur an volljährige Personen

Nicht empfohlen für Kinder, Schwangere und stillende Mütter.

Vor Gebrauch schütteln!


Verwendungshinweis
In kleinen Mengen nach dem Essen genießen.


Verkehrsbezeichnung
Kräutergetränk mit Alkohol


Hinweis für Allergiker
---
Aufbewahrungshinweis
Nach dem Öffnen kühl lagern und innerhalb von 3 - 4 Wochen aufbrauchen


Marke
COSMOVEDA


Ernährungsweise
Glutenfrei
Laktosefrei
Vegan


Qualität / Zertifikate
Fair Trade aus eigenen Projekten


Hersteller
COSMOVEDA, Knappenweg 4, 01983 Freienhufen


Herkunft
Sri Lanka
Customers also purchased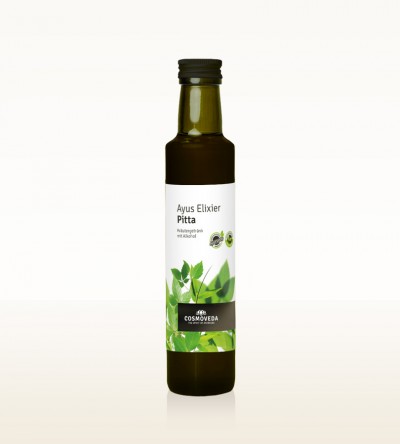 € 9,73 RRP € 13,90 you save 30% (€ 4,17)
€ 38,94 pro litre
incl. 19 % VAT excl. shipping costs