Organic Mint Lemon Tea 25 x 1.8g
Product.Nr.: 167268-DE
EUR
4.79
€ 4,79
incl. 7 % VAT
Discount
Quantity
Single price
pro 100 g
1-3

€ 4,79

€ 10,64

4-7

-5 %

€ 4,55

€ 10,11

>= 8

-9.7 %

€ 4,32

€ 9,61
Available, enough stock

delivery time 2-4 days
gross weight 0.06 kg
---
Ingredients: Peppermint leaves* 35%, Nana mint leaves* 35%, Lemon pieces* 12%, Ginger root*, Licorice root*

* from certified organic agriculture

Botanical: Leaves of peppermint* 35% Phudina/Mentha piperita, Leaves of Nana mint* 35% Phudina/Mentha piperita var. "Nana", Pieces of Lemon fruits* 12% Citrus limon, Root of Ginger* Shunti/Zingiber officinalis, Root of Liquorice* Illicium verum

Contains licorice - in case of high blood pressure, excessive consumption of this product should be avoided.
vegan
lactose-free
gluten-free
product description
Ein zitronig-frischer Teegenuss für erhitzte Gemüter

Erleben Sie wunderbare Kräuterkompositionen und authentische Premium-Qualität, fair gehandelt vom Rohstoff bis zur fertigen Teemischung. Unserer Umwelt zuliebe verzichten wir auf Anhänger und Faden und unsere Envelops sind aus Maisstärke hergestellt. Für ein unvergleichliches, reines Geschmackserlebnis sind unsere Kräuter gröber geschnitten, ohne Aromazusätze und in einem großporigen Naturvlies abgepackt. Perfekte Harmonie von Genuss und Wohlbefinden, inspiriert durch den Geist des Ayurveda, der Weisheit vom guten und glücklichen Leben.

Zubereitung:

Teebeutel mit siedendem Wasser übergießen
5 - 7 Minuten ziehen lassen


Verkehrsbezeichnung
Ayurvedischer Kräutertee mit Früchten und Gewürzen


Verwendungshinweis
Für eine ausgewogene Ayurvedische Küche und Ernährungsweise.


Inhalt
45g


Hinweis für Allergiker
---


Aufbewahrungshinweis
Trocken und lichtgeschützt lagern


Marke
COSMOVEDA


Ernährungsweise
Glutenfrei
Laktosefrei
Vegan


Qualität / Zertifikate
BIO nach EWG 834/2007 Norm , DE-Öko-003 (Kontrollstelle)
Fair Trade aus eigenen Projekten


Hersteller
COSMOVEDA, Knappenweg 4, 01983 Freienhufen


Herkunft
Deutschland
Customers also purchased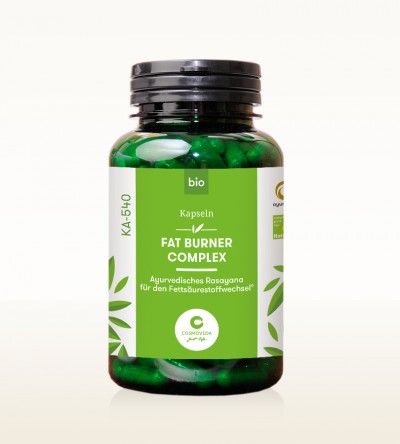 € 29,80
€ 33,11 pro 100 g
incl. 7 % VAT excl. shipping costs